4 Zones Segregation System of test area type SRDZ-4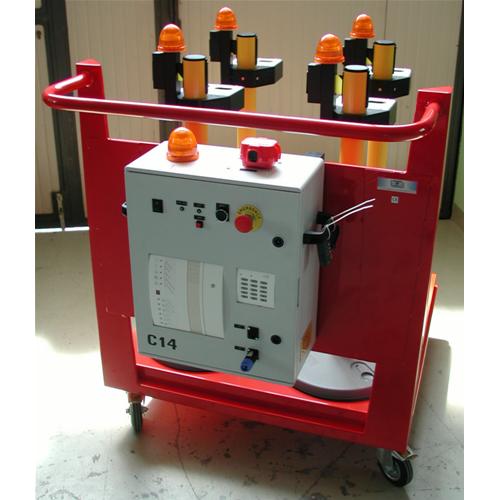 | | |
| --- | --- |
| Item code: | 090005 |
| Type 1: | All-Energy SystemsŪ |
| Unit of measurement: | PZ |
| Quantity: | |
Description
SRDZ-4 is a new system that allows you to limit access to areas where tests and controls are carried out, and to actively supervise the limited area.
Can be used in conjuction  with the SCQ-07/12 and SCQ-TR-07 electric board test bench.
The system is composed of a series of four stakes with extendable  ribbon that communicates with a central unit.
This system is extremely easy to use:
- the area is limited by extending ribbon between the different stakes. These are connected to the central unit;
- the central unit is connected to the test bench ( SCQ-07/12 and SCQ-TR-07).
After you actived the sysyem , the testers can work inside the limited area; every intrusion into the test area will cause the immidiate disabling of the test bench.
An adjustable emergency button near the point of work, allow the tester to disabling the bench test immediatly.
The whole system is equipped with a special trolley so that it can  be easily moved.
Who we are
Electrical Panel Department
Makita Industry Line
Contacts
Services
Terms of sale